Xbox Series X|S & PC Phantasm Red Wired Controller
Xbox Series X|S & PC Phantasm Red Wired Controller
XBOX SERIES X/S, XBOX ONE, & WINDOWS 10/11 PC
Xbox Series X|S & PC Phantasm Red Wired Controller
XBOX SERIES X/S, XBOX ONE, & WINDOWS 10/11 PC
Stealth Mode: Activated. Conceal your moves and crush the competition with the Phantasm Red PDP Gaming Wired Controller for Xbox and Windows 10!
With the new and unique digital camouflage design, your enemies will never see you coming. Compatible with the free PDP Control Hub App, you can customize your controller to fit the way you play. Adjust your game and chat audio, without missing a moment, with the audio controls located directly on the front of the controller. Communicate with your team using the built-in 3.5mm audio jack or mute your mic by simply double tapping the "Function" button. With an 8-foot detachable cable, you'll have plenty of room to get comfy on your couch. Experience what #1 feels like with the Phantasm Red PDP Gaming Wired Controller.
Adjustable Volume Control
Officially Licensed by Xbox
mappable Buttons

Customizable buttons and sticks via PDP Control Hub App

Rumble

Dual rumble motors for immersive experience

Audio

Standard 3.5mm stereo headset jack for in-game audio and mic

Volume & Mic Controls

Share Button to share your greatest screenshots and video clips

Connection

Volume control via D-Pad

Ergonomics

8ft Detachable USB Cable for Xbox & PC

Official License

Features a sleek design with non-slip grips and textured trigger and shoulder buttons

Officially licensed by Xbox
Xbox Controller

8-foot cable
OFFICIALLY LICENSED
Put through rigorous quality and safety testing, performed by Xbox, to become an officially licensed product.
Control Audio On-the-Fly
Hold Shift and press the Up and Down on the D-pad to Adjust volume
PDP CONTROL HUB APP
Enhance you gameplay by customizing your controller settings and more on the free app.
SHARE YOUR GREATEST HITS
Share photos and videos of those epic game-winning moves, or face-palming fails, using the dedicated Share button.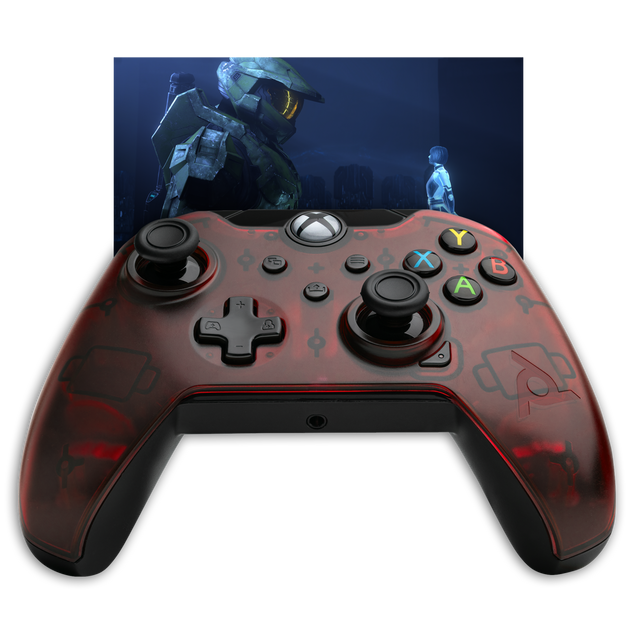 FIND THE PERFECT FIT
Models
Price
Compatibility
Wireless
Audio controls
Share button
Customizable via app
Back paddle buttons
Customizable led lighting
Current Product

Xbox Series X|S & PC Phantasm Red Wired Controller

$29.99

XBOX SERIES X/S, XBOX ONE, & WINDOWS 10/11 PC

Xbox Series X|S & PC Neon Carbon Controller

Shop Now

$27.99

XBOX SERIES X/S, XBOX ONE, & WINDOWS 10/11 PC

Xbox Series X|S & PC Purple Fade REMATCH Controller

Shop Now

$37.99

XBOX SERIES X/S, XBOX ONE, & WINDOWS 10/11 PC

Xbox Series X|S & PC Black Afterglow Wave Controller

Shop Now

$44.99

XBOX SERIES X/S, XBOX ONE, & WINDOWS 10/11 PC

Xbox Series X|S & PC Afterglow Wired Controller

Shop Now

$39.99

XBOX SERIES X/S, XBOX ONE, & WINDOWS 10/11 PC

Xbox Series X|S & PC Victrix Gambit Tournament Controller

Shop Now

$99.99

XBOX SERIES X/S, XBOX ONE, & WINDOWS 10/11 PC