Nintendo Switch Travel Case GLOW Sheikah Shoot
Nintendo Switch Travel Case GLOW Sheikah Shoot
NINTENDO SWITCH, NINTENDO SWITCH LITE, NINTENDO SWITCH - OLED MODEL
Nintendo Switch Travel Case GLOW Sheikah Shoot
NINTENDO SWITCH, NINTENDO SWITCH LITE, NINTENDO SWITCH - OLED MODEL
Glow on-the-go with the Sheikah Shoot Travel Case GLOW! Store and protect your Nintendo Switch™, Nintendo Switch™ Lite, or Nintendo Switch™ - OLED Model in this stylish case with a unique, glow in the dark feature and integrated device stand for gaming wherever you go.

Officially Licensed by Nintendo
Protection On-the-Go

Slim, sturdy design and Nylon wrist strap make it easy to carry your console while protecting it. High-quality, semi-hard shell construction.

Fantasic Storage

Unique console lift strap allows for safe and easy removal of your console. Prevent drops, breaks and scratches of your console around the house, to school, or when traveling.

Protect Your Accessories

Integrated stand props up your console to play comfortably on-the-go

Officially Licensed

Official Licensed by Nintendo for Switch, Switch OLED, and Switch Lite.
CROSS-COMPATIBLE
Officially licensed by Nintendo®, and compatible with Nintendo Switch™, Nintendo Switch™ Lite, and Nintendo Switch™ - OLED Model.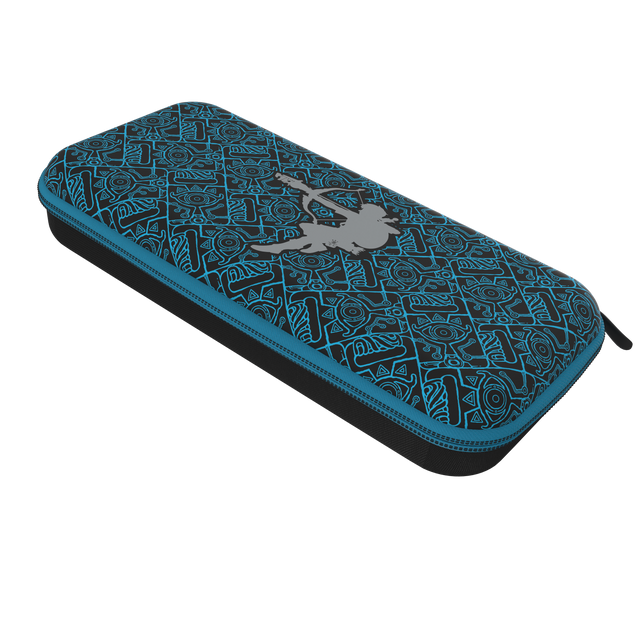 GAME ON-THE-GO
Use the integrated stand to prop up your device and play on-the-go, while the small accessory pocket stores your essentials.
GLOWS IN THE DARK
Power up your play with the unique design that glows in the dark after exposure to light.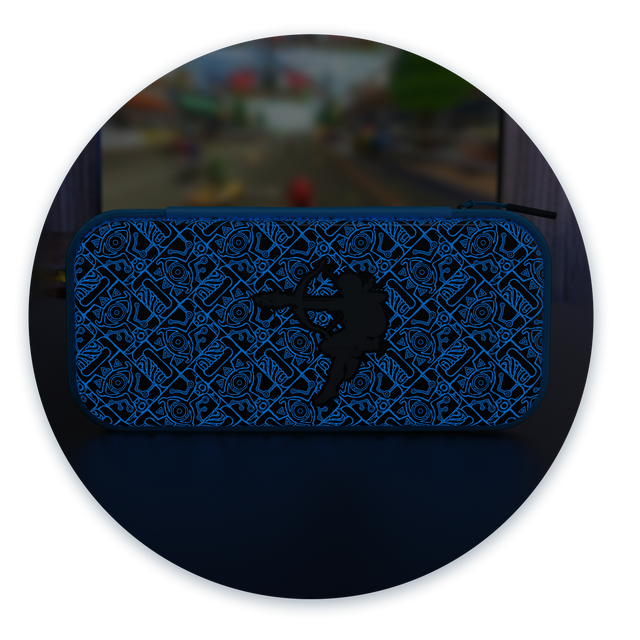 PROTECT YOUR PLAY
Snuggly store your device in this slim, sturdy case with a removable Nylon wrist strap.
READY FOR A REMATCH?
Take your enemies down again and again with the REMATCH Wired Controllers, officially licensed by Nintendo®.
SHOP REMATCH
FIND THE PERFECT FIT
Models
Price
Compatibility
Console storage
Games held
Contollers held
Joy cons held
Protection
Headsets held
Current Product

Nintendo Switch Travel Case GLOW Sheikah Shoot

$19.99

NINTENDO SWITCH, NINTENDO SWITCH LITE, NINTENDO SWITCH - OLED MODEL

14

0

1

SEMI-HARD SHELL

0

Nintendo Switch Travel Case Royal Princess Peach

Shop Now

$19.99

NINTENDO SWITCH, NINTENDO SWITCH LITE, NINTENDO SWITCH - OLED MODEL

14

0

1

SEMI-HARD SHELL

0

Nintendo Switch Travel Case Hyrule Blue

Shop Now

$19.99

NINTENDO SWITCH, NINTENDO SWITCH LITE, NINTENDO SWITCH - OLED MODEL

14

0

1

SEMI-HARD SHELL

0

Nintendo Switch Travel Case Mario Escape

Shop Now

$19.99

NINTENDO SWITCH, NINTENDO SWITCH LITE, NINTENDO SWITCH - OLED MODEL

14

0

1

SEMI-HARD SHELL

0