Xbox Series X|S & PC Monkey Bomb REMATCH GLOW Advanced Wired Controller
Xbox Series X|S & PC Monkey Bomb REMATCH GLOW Advanced Wired Controller
XBOX SERIES X/S, XBOX ONE, & WINDOWS 10/11 PC
Xbox Series X|S & PC Monkey Bomb REMATCH GLOW Advanced Wired Controller
XBOX SERIES X/S, XBOX ONE, & WINDOWS 10/11 PC
Ready for a rematch? Take your enemies down again and again with the enhanced features and customizability of the Monkey Bomb REMATCH Advanced Wired Controller, officially licensed by Xbox.
Officially Licensed by Xbox
Programmable Buttons

Re-map buttons, reconfigure triggers, adjust deadzones, and more with the free PDP Control Hub App

Audio

Built-in audio controls for quick, mid-game adjustments and programmable back buttons for quicker responses

Precision & Ergonomics

Laser-etched texture on grips, thumbsticks, & triggers for comfort and accuracy

Connection

Includes 8-foot, detachable USB-C cable for plenty of room to play

Officially Licensed

Officially licensed by Xbox
Xbox Controller

8-foot cable
TESTED & TRUSTED
Put through rigorous quality and safety testing, performed by Xbox, to become an officially licensed product.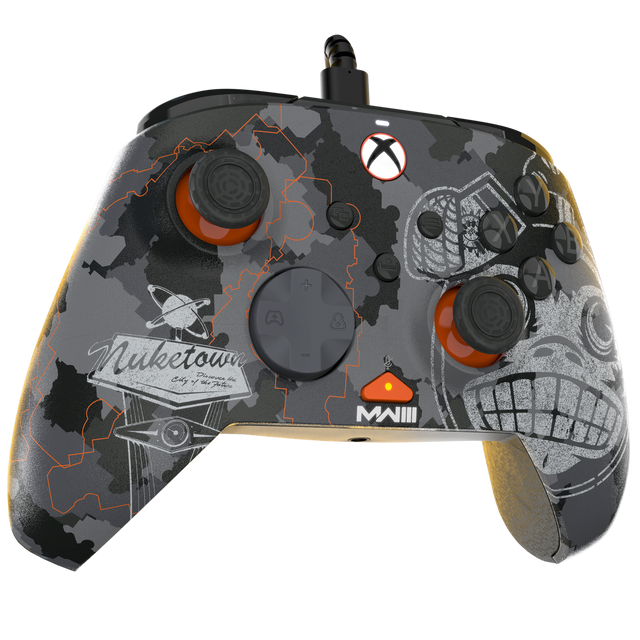 PROGRAMMED TO WIN
Map controller functions to the two programmable back buttons to take down the ops quickly and efficiently.
GLOW IN THE DARK
Blow the competition away in style with this uniquely designed controller that glows in the dark after exposure to light.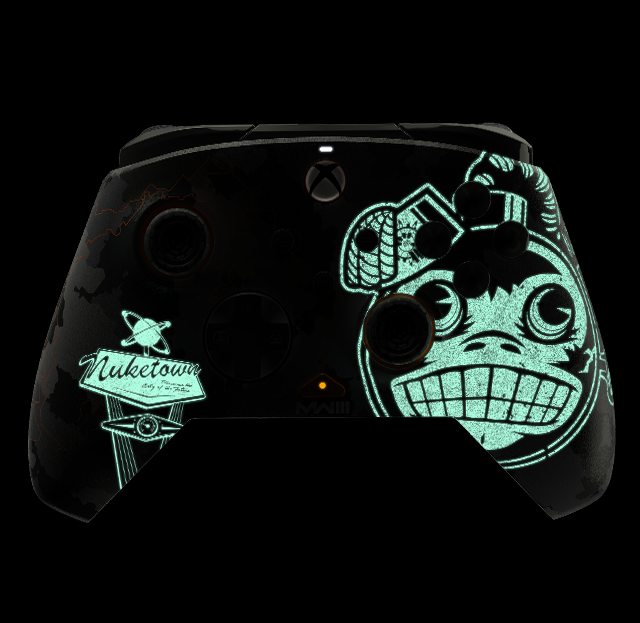 PLAY WITH PRECISION
Laser-etched texture on the grips, analog sticks, and triggers provide comfort and accuracy, while the circular D-pad delivers quicker inputs.
PDP CONTROL HUB APP
Enhance you gameplay by customizing your controller settings and more on the free app.
SHARE YOUR GREATEST HITS
Share photos and videos of those epic game-winning moves, or face-palming fails, using the dedicated Share button.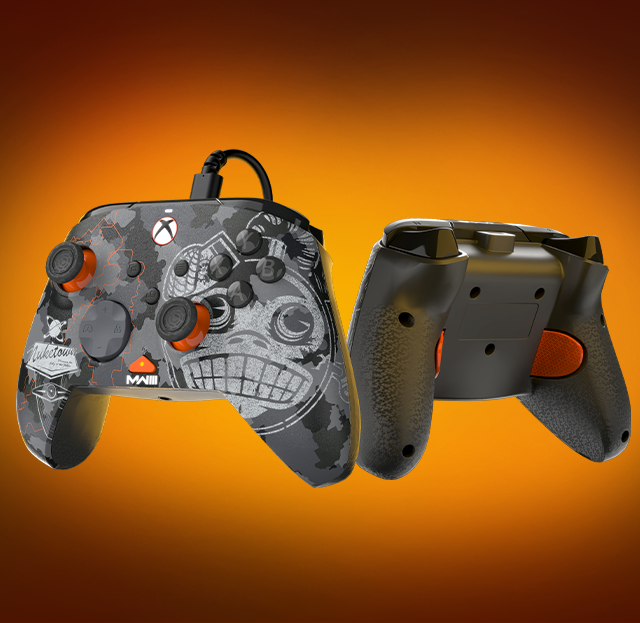 FIND THE PERFECT FIT
Models
Price
Compatibility
Wireless
Audio controls
Share button
Customizable via app
Back paddle buttons
Customizable led lighting
Current Product

Xbox Series X|S & PC Monkey Bomb REMATCH GLOW Advanced Wired Controller

$37.99

XBOX SERIES X/S, XBOX ONE, & WINDOWS 10/11 PC

Xbox Series X|S & PC Neon Carbon Controller

Shop Now

$29.99

XBOX SERIES X/S, XBOX ONE, & WINDOWS 10/11 PC

Xbox Series X|S & PC Purple Fade REMATCH Controller

Shop Now

$37.99

XBOX SERIES X/S, XBOX ONE, & WINDOWS 10/11 PC

Xbox Series X|S & PC Black Afterglow Wave Controller

Shop Now

$44.99

XBOX SERIES X/S, XBOX ONE, & WINDOWS 10/11 PC

Xbox Series X|S & PC Victrix Gambit Tournament Controller

Shop Now

$99.99

XBOX SERIES X/S, XBOX ONE, & WINDOWS 10/11 PC