Xbox Series X|S & PC Spirit Red AIRLITE Headset/REMATCH Controller Bundle
Xbox Series X|S & PC Spirit Red AIRLITE Headset/REMATCH Controller Bundle
XBOX SERIES X/S, XBOX ONE, & WINDOWS 10/11 PC
Xbox Series X|S & PC Spirit Red AIRLITE Headset/REMATCH Controller Bundle
XBOX SERIES X/S, XBOX ONE, & WINDOWS 10/11 PC
Ready for a rematch? Take your enemies down again and again with the enhanced features and customizability of the Xbox Series X|S & PC Spirit Red Rematch Controller! Comes with a matchin Spirit Red Airlite Headset!
Officially Licensed by Xbox
mappable Buttons & Paddles

Re-map buttons, reconfigure triggers, adjust deadzones, and more with the free PDP Control Hub App

Audio

Built-in audio controls for quick, mid-game adjustments and programmable back buttons for quicker responses

Competitive Ergonomics

Laser-etched texture on grips, thumbsticks, & triggers for comfort and accuracy

Connection

Includes 8-foot, detachable USB-C cable for plenty of room to play

Official License

Officially licensed by Xbox
Xbox Controller

8-foot cable
TESTED & TRUSTED
Put through rigorous quality and safety testing, performed by Xbox, to become an officially licensed product.
PROGRAMMED TO WIN
Map controller functions to the two programmable back buttons to take down the ops quickly and efficiently.
PDP CONTROL HUB APP
Enhance you gameplay by customizing your controller settings and more on the free app.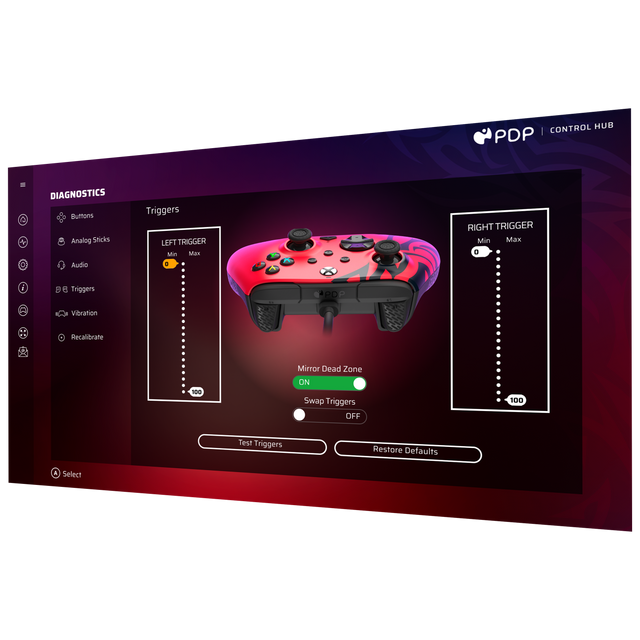 SHARE YOUR GREATEST HITS
Share photos and videos of those epic game-winning moves, or face-palming fails, using the dedicated Share button.
LONG-LASTING COMFORT FOR GAMING SESSIONS
Plush earcups & lightweight design for extended gaming
BE HEARD LOUD & CLEAR
Sleek, noise-canceling mic delivers clear comms to your team, or flip the mic up to mute when you need radio silence.
CLEAREST AUDIO IN THE GAME
Expertly engineered audio is delivered through our fine-tuned, 40mm drivers for immersive gaming
UNLOCK THIS LOOK
Take your gamer style to a new level with matching accessories.
FIND THE PERFECT FIT
Models
Price
Compatibility
Wireless
Audio controls
Share button
Customizable via app
Back paddle buttons
Customizable led lighting
Current Product

Xbox Series X|S & PC Spirit Red AIRLITE Headset/REMATCH Controller Bundle

$59.99

XBOX SERIES X/S, XBOX ONE, & WINDOWS 10/11 PC

Xbox Series X|S & PC Neon Carbon Controller

Shop Now

$29.99

XBOX SERIES X/S, XBOX ONE, & WINDOWS 10/11 PC

Xbox Series X|S & PC Purple Fade REMATCH Controller

Shop Now

$37.99

XBOX SERIES X/S, XBOX ONE, & WINDOWS 10/11 PC

Xbox Series X|S & PC Black Afterglow Wave Controller

Shop Now

$44.99

XBOX SERIES X/S, XBOX ONE, & WINDOWS 10/11 PC

Xbox Series X|S & PC Victrix Gambit Tournament Controller

Shop Now

$99.99

XBOX SERIES X/S, XBOX ONE, & WINDOWS 10/11 PC